.

Gurmukhi - The Sikh Alphabet
Practice Paragraph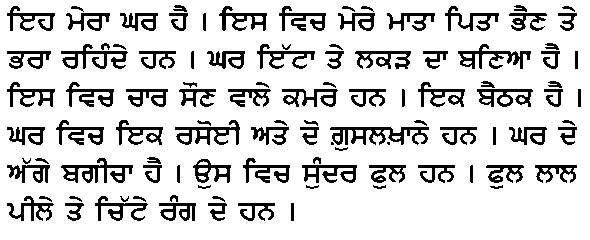 Pronunciation
Aih mera ghar hae. Es vich mere mata pita bhain taae bhra rhendaae hun. Ghar ittaan taae lukarh da baniaa hae. Es vich chaar sawn valaae kumraae hun. Ik baethk hae. Ghar vich ik rsoiee aetaae doow guslkhanaae hun. Ghar daae aghaae bgheecha hae. Ous vich sundr phul hun. Phul lal peelaae taae chitaae rung daae hun.
Translation
This is my house. My mother, father, sister and brother live in it. The house is made of bricks and wood. It has four bedrooms. It has one drawing room. The house has one kitchen and two bathrooms. In front of the house is a small garden. In it are beautiful flowers. The flowers are red, yellow and white colored.
Source: sikhs.org
- Accountants and Financial Advisors
- Builders Merchants and Construction
- Clubs Associations and Institutes
- Communication and Mobile Companies
- Computer Consultants
- Computer Services
- Computing Internet Web Services
- Importing/Exporting
- Internet Services
- Property
- Nursery Schools Only
- Nursery & Infants Schools
- Junior Schools Only
- Primary Schools
- High Schools
- High Schools with 6th Form
- 6th Form Colleges & FE Colleges
- Southall, the mini Punjab
- Northcote ward
- Dormers Wells ward
- Norwood Green ward
- Glebe ward
- Waxlow ward
- Hambrough ward
.



With its popcorn stand and a street trader outside Little Indian is, as they claim, a home away from home for many Indians more pictures...
.